Mansfield Town thanked for 'lovely' Hillsborough tribute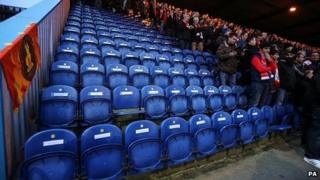 The families of those who died in the Hillsborough disaster have thanked a football club for a "beautiful" tribute to the victims.
Mansfield Town put the names of those who died on empty seats for the FA Cup tie with Liverpool on Sunday.
Ninety-six Liverpool fans died after a crush during a FA Cup semi final between the club and Nottingham Forest at the Sheffield stadium in 1989.
Hillsborough Family Support Group's Margaret Aspinall said it was "lovely".
The Nottinghamshire team's operations director Paul Broughton said the "amazing idea" for the tribute had come from one of the club's fans.
"We wanted to do something in light of what has happened in terms of Hillsborough," he said.
"One of our fans suggested we place a name on each of the empty seats in the segregation section of the stadium.
"The idea sent shivers down my spine."
'Entirely appropriate'
Mrs Aspinall, who lost her son James in the disaster, said she had been moved by the gesture.
"To me, it sums up where we are at, in terms of how everyone around the country is starting to realise what we've known for a long time about Hillsborough," she said.
"I think it's entirely appropriate for us going forward in our fight for justice.
"It means a great deal and I would like to thank Mansfield for a beautiful gesture."
A report by the Hillsborough Independent Panel in September 2012 found some of the 96 dead might have been saved and said police had changed witness statements and tried to blame Liverpool fans.
In December, the High Court quashed the original inquest verdicts of accidental death and ordered new inquests to be held.