Tom Brabham prepares for walk around British coastline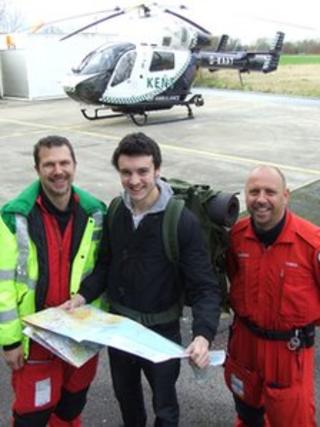 A man from East Sussex is preparing to walk around the entire 7,000 miles of British coastline in aid of the Kent, Surrey and Sussex Air Ambulance.
Tom Brabham, 21, from Hailsham, will set off from Eastbourne Pier on 5 February, a week after his birthday.
The former Hailsham Community College pupil aims to complete the trek in 10 months, arriving home by Christmas.
He said he had been inspired by the book Turn Right at Land's End by John Merrill, who achieved the feat in 1978.
"I've wanted to do this since I left school but unfortunately I felt I was too young and lifestyle choices got in the way," he said.
'Incredible coastline'
"I believe this country is a beautiful place and I want to explore the land I'm from before travelling abroad.
"If anything the weather will be just as, if not more, diverse and the coastline and countryside here is incredible."
His journey will take him clockwise along the south coast to Land's End, Wales, north west England, the Isle of Anglesey, Lancashire and Cumbria.
In the summer, he will then cross the Scottish border into the Highlands, back into England and south towards London before following the Kent coastline to Eastbourne.
John Merrill became the first person to walk the entire coastline of Britain, averaging 26 miles per day with 50lbs on his back for 10 months.