Rail firm Southeastern criticised over missed stations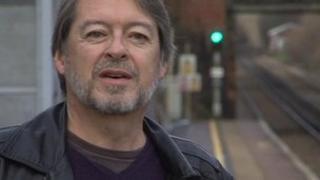 A train company's practice of missing out smaller stations when routes are disrupted has been criticised by a commuter and a South East MP.
The practice came to light after Ticehurst resident Robert Hare boarded a Southeastern train to Stonegate, East Sussex, but later heard an announcement that the station would be missed out.
Dartford MP Gareth Johnson said the firm needed to improve its performance.
Southeastern said 91.8% of trains were punctual and called at all stations.
Retired musician Mr Hare said he was travelling on a London to Hastings service on 21 December and had reached Tunbridge Wells in Kent, when it was announced the train would not stop at six stations.
Rail ticket 'contract'
He said the guard told him stations were being missed because the train was running seven minutes late.
Mr Hare left the train at Wadhurst, took a bus to Ticehurst, walked home and organised a lift to Stonegate to collect his car.
He said he arrived at home 90 minutes later than planned.
He said: "If I buy a ticket, I'm entering into a contract and the provider is obliged to honour that contract."
Conservative MP Mr Johnson said: "What we've clearly got to do is have a look at the terms of their franchise that enables them to do this in the first place.
"We ask Southeastern trains to provide a good service for commuters.
"We rely on that and they cannot hide behind the small print of the terms of that franchise and provide a poor service to commuters yet claim they are providing a punctual service. That's simply not acceptable."
Southeastern said there had been disruption following a signal failure near Stonegate.
A statement issued by the firm said: "We run over 2,200 train services every single day and 91.8% of these arrive on time calling at all stations.
"When there is disruption on the network, there are occasions when we take a tough decision to speed up the recovery of the overall service by not stopping at some smaller stations.
"We realise that a small number of people might be disadvantaged in this event, and we do apologise, but it is always our priority to provide the best possible service for the majority of people using our services."