Wonga: Premier personal finance player?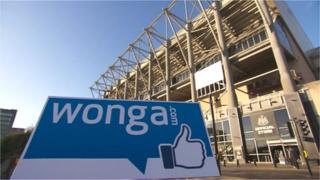 So, just how expensive was Christmas for you?
Many of us hit the high street sales and online shopping proved a welcome alternative to left-over Christmas pudding and mince pies on Boxing Day.
But how will you pay for it all?
I've been hearing from people who are increasingly relying on so called payday loans - even though you don't actually have to wait for pay day to apply.
In the North East, a region with some of the highest levels of personal debt, Wonga will soon be the name splashed over the shirts of some of the region's biggest earners - Newcastle United players.
Premier player
Wonga, headquartered just round the corner from London Zoo, is to become the Toon's latest sponsor putting up a reported £32 million to back the black and white army.
Depending on your point of view, Wonga is either an innovative player in the world of personal finance - or should be shown a red card for wooing people who have little chance of meeting repayments into loans with cripplingly high interest rates.
As I've discovered, part of Wonga's success is to make the process of applying for money very easy.
Their advert shows a bunch of silver surfer puppets demonstrating just how straightforward it is to apply for a loan - with money in the bank in less time than it takes to cook your tea.
According to Wonga around a million people in the UK have taken up the offer.
The company says most of its customers are single, childless and under 35.
It also says that the average loan is made for just 16 days and that most people pay off the loan without any difficulty - and are charged 1% interest a day.
An official study in 2010 said pay day loans provided a legitimate, useful service that helped cover a gap in the market.
But that's not the experience of everyone.
Risky borrowing?
For some of the people in tonight's BBC Inside Out film the attraction of the loan has proved too much to resist.
Pamela Smith from North Tyneside admits she has a terrible credit rating - with debts of around £40,000 - but she was still able to get a loan of £300 from Wonga.
She has no chance of paying it back.
Wonga says it has created a computer programme, called an "automatic risk decision engine", which collates data from lots of sources about applicants before deciding on whether to sanction a loan.
About two thirds of people are rejected.
But critics say too many people like Pamela are sucked into the chance of what looks like easy money.
They also argue that interest on loans is an astonishing 4,000% when calculated as an annual percentage rate.
Just before Christmas two leading figures from the region, the Bishop of Durham (and Archbishop of Canterbury-to-be), Justin Welby and Paralympic superstar, Dame Tanni Grey Thompson helped persuade the government to change the law.
This gave the new financial watchdog, the Financial Conduct Authority, the power to limit interest charges.
But will that be enough?
Money management
The new watchdog will not impose automatic limits - and will deal with companies on a case by case basis.
Campaigners also want to see people given more education about how to manage money which might help flag up the pitfalls of what at first sight seems like a straight forward way to get yourself some fast cash.
And what about the Wonga deal in Newcastle?
Well, Wonga's John Moorwood told me that the deal with Newcastle United isn't about winning more customers in an area of Britain with high levels of deprivation.
"This deal is about raising brand awareness.
"If we wanted to target the North East there are a lot cheaper ways of doing that - this isn't about selling loans to anyone.
"This is about developing a long term partnership with the club and community."
Have you taken out a short term loan? Let me know your thoughts by commenting below.