Overcrowded Surrey rail services review announced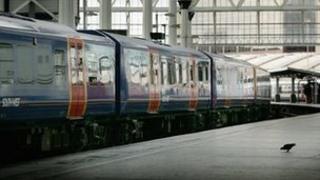 Rail services in Surrey are to be reviewed after it emerged that the 07:32 from Woking to London was one of the most overcrowded trains in England.
Surrey County Council said it was looking at ways of reducing overcrowding, increasing capacity and using longer trains to boost growth.
It said it would also be examining rail access to Heathrow, Gatwick Airport and the latest signalling technology.
Councillor John Furey said train passengers could "feel like sardines".
The Conservative cabinet member for transport said: "Good transport links are vital to the economic recovery.
"Surrey contributes around £28 billion to the UK economy, which is more than anywhere outside London, so it is vital this county's rail network meets rising passenger demand."
In December, the Department of Transport reported the 07:32 between Woking and London Waterloo had a load factor of 164%.
"This means there were 64% more passengers stuffed on to what is already considered a full train," said a council spokesman.
The council said its rail strategy would be ready for publication in the summer.
"It is awful feeling like a sardine packed into a train carriage," added Mr Furey.