Prisoner Edward Macdonald 'tried to burn down building'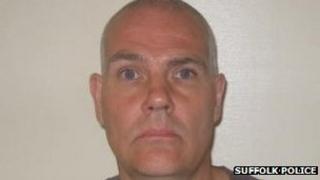 An arsonist tried to burn down a building after being allowed out of prison on a work placement.
Edward Macdonald, 46, went on the run after being given day release from Hollesley Bay open prison, in Suffolk, on 28 June last year.
Nearly three months later he attempted to burn down a shop and flat in Great Yarmouth, Norwich Crown Court heard.
Macdonald, already serving a life term for an arson offence, was jailed for six years, to run concurrently.
At an earlier hearing, he was given an indeterminate sentence for a minimum of six years for the latest crime, to run concurrently with his life sentence.
He admitted arson with intent to endanger life.
Community work placement
But the court heard that a procedural error had been made during sentencing, meaning Macdonald did not meet the criteria for an indeterminate sentence.
Recorder Guy Ayers changed the tariff to a determinate sentence lasting six years.
Mr Ayers told Macdonald: "When you are released from your life sentence for the earlier offence depends on how you conduct yourself in prison."
Macdonald, who had been on a community work placement at the Ransomes Europark industrial estate, in Ipswich, tried to burn down a shop and flat above it in Great Yarmouth on 16 September.
A man in his 60s was in the flat but managed to escape the flames.
Macdonald, who has family in Great Yarmouth, had been jailed for life at Lewes Crown Court in July 1996 after he admitted arson at a block of flats in Eastbourne, East Sussex.