A47 road deaths: Police want to speak to red car driver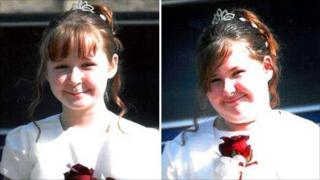 Police are appealing for the driver of a red car seen on the A47 in Norfolk at about the time of a crash in which two sisters died to come forward.
A Ford Focus ended up on its side in a ditch at Walsoken near Wisbech at about 18:40 GMT on 27 December.
Sisters Tamzin and Jessica Portor, aged 10 and seven, died later in hospital.
"We are keen to speak with the driver of a red car seen travelling towards King's Lynn around the time of the incident," a police spokesman said.
The accident happened about 600 yards (500m) north of the Broad End Road junction as the crash vehicle travelled towards Wisbech in the opposite direction to the red car.
The two sisters, from Sutton Bridge in Lincolnshire, died in hospital from their injuries.
Three other people travelling in the car, a 12-year-old boy, 38-year-old man and a 43-year-old woman, all suffered minor injuries.