North East hospitals under 'unprecedented' demand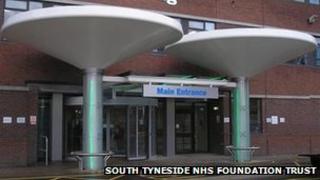 Services at hospitals in the North East are under "unprecedented demand", says the Royal College of Nursing (RCN).
South Tyneside Hospital cancelled all planned surgeries this week after "high volumes" of A&E admissions left the hospital with no beds.
Pressure is also being felt at other hospitals in the region, with A&E admissions rising as high as 22% last month compared to December 2011.
A spokesperson for the NHS in said it would cope "because we always have".
Health services have appealed to the public to "choose wisely" before going to emergency departments as hospitals across the region face "significant pressures".
RCN officer Greg Canning, said: "Nurses have been contacting us from across the region to say that A&E departments are experiencing unprecedented demand on services.
"Virtually every hospital in both the North East and Cumbria seems to be affected.
"Although it is typical at this time of year for services to experience winter pressures it appears that a range of factors, including a rise in the number of patients reporting with winter-vomiting type symptoms, are adding to the strain on services."
In Gateshead, an average of 180 people visited A&E every day in December 2012.
'A welcome reduction'
Dr Shaz Wahid said he had "never seen it as busy" in the 10 Christmases he has worked at South Tyneside hospital, where A&E attendances were up 22% year-on-year in December and on Wednesday all planned surgeries were cancelled.
Helen Ray from the South Tyneside NHS Foundation Trust, said it had been "quieter" since then, but operations would not go ahead until next week.
She said: "We are looking each morning at the numbers of patients that are scheduled to come in for elective surgery and we will try to make sure that those surgeries are undertaken.
"If the weather conditions stay as they are now, then we would hope to be back to relatively normal circumstances by the beginning of next week."
The North Cumbria University Hospitals NHS Trust said hospitals in Carlisle and Whitehaven have been "very busy", with a small number of routine operations being cancelled.
On Thursday, all the health trusts in the North East held a meeting to decide how to deal with winter pressures on hospitals.
Tricia Cresswell from the NHS Strategic Health Authorities said: "The NHS in the North East will cope because we always have.
"We met to see what more we could do to improve that support between trusts, because different hospitals feel the pressures at different times.
"We are seeing a welcome reduction in the number of cases of Norovirus for example in hospitals, but unfortunately it is that increase in the number of admissions in relation to respiratory illnesses and viruses that we see in the winter."