Doctors had no right to let David James die, says wife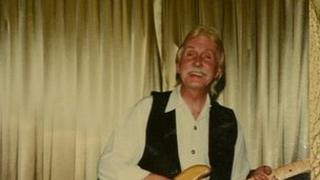 May James believes she should not be reading sympathy cards and preparing for her husband David's funeral.
When his heart stopped beating on New Year's Eve, doctors at the hospital he had been taken to - which cannot be named for legal reasons - did not resuscitate him.
The hospital trust was exercising a right it had won in court. But the family believes that was not a doctor's choice to make.
"I told the doctor, 'you think you're gods but you are not'," said Mrs James.
"And there is no doctor on this earth who can predict when a person is going to die."
Her daughter Julie added: "Where there is life I think doctors should do everything they can to preserve life."
Mr James, 69, was a talented and fit musician who had been performing two nights before he fell ill in May last year when he was admitted.
He contracted an infection and his condition worsened. He eventually suffered kidney failure and brain damage
The trust then decided it would not be in his best interest to resuscitate or treat him for his kidney condition.
Mr James's family, who are from the north west of England challenged this in court but the trust maintained: "The burdens of administering this treatment outweigh the benefits as there is little prospect of any meaningful recovery and therefore such treatment is futile."
The Appeal Court agreed with the hospital early last month, ruling that it was acting in Mr James's best interests and praised the care he was receiving.
"Who has the right to judge anybody's quality of life?" said Mrs James.
But his family argue that even at the end of his life he was waving and smiling and would have wanted to live.
Mr James's family is now seeking legal advice because they are not happy with the care he received and would like the judgement overturned.
They say they want to set a precedent for other families who want to make sure their wishes are respected.
The hospital reiterated its position in court that it was acting in Mr James's best interests and this had been backed by the court.
It also restated the comment from the judges that Mr James had received good care in the hospital.