Rudding Park death flight pilot 'mad keen' on flying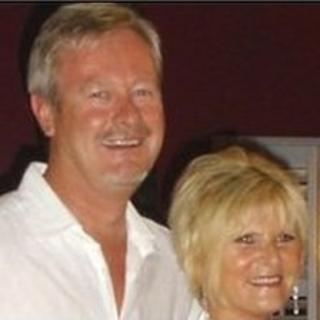 A businessman who died in a helicopter crash after his instructor allegedly lied so he could get a licence was "mad keen" on flying, a court has heard.
Paul Spencer and his wife, Linda, died in a crash at Rudding Park, Harrogate in North Yorkshire in January 2008.
Instructor Ian King, 53, of Burns Way, Clifford, West Yorkshire denies signing off Mr Spencer's allegedly inaccurate training records.
The trial at Leeds Crown Court is expected to last for a week.
Mr King is accused of making a false representation with intent to deceive the Civil Aviation Authority.
Fixed-wing licence
Mr Spencer's son-in-law, Michael Carr, who was also taught by Mr King, told the court his father-in-law was fanatical about flying and had already achieved his fixed-wing pilot's licence.
He said: "He loved flying full-stop, no matter what. He was mad keen.
"When you get the bug for flying you just want to carry on."
Mr Carr said Mr King seemed like a very competent, experienced instructor who had amassed around 3,000 hours of flying time.
The prosecution claims that following the crash, a record of Mr Spencer's flying experience was discovered among his papers that was different from the hours recorded in the official flying log submitted for his licence.
It is alleged by the prosecution that Mr King knew it was false, but certified it to fast-track the process for his student.
The logbook showed Mr Spencer had done 51.3 hours of training, the minimum being 45 hours, and that it had included the mandatory ten hours of solo flying, which the prosecution says was a "lie".
Jurors have also been told by the prosecuting barrister Martin Goudie that phone records, emails sent by the businessman, fuel purchases and weather conditions also appeared to support the unofficial record rather than the official log certified by Mr King.