Jordan Cobb search stood down after third day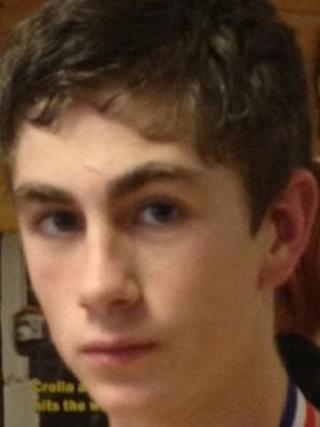 The search for a teenager who jumped from a ferry has been stood down after a third day.
Jordan Cobb, 16, from Plymouth, leapt from the Torpoint ferry into the River Tamar between Devon and Cornwall late on New Year's Eve.
Devon and Cornwall Police, the RNLI, MoD and coastguard were among 50 personnel conducting land and river searches on Thursday.
A helicopter from RNAS Culdrose in Cornwall was also involved.
Members of the public were urged to stay away from the shoreline during the search on Thursday, with police asking volunteers to use binoculars from the shore if they wanted to help.
'Difficult time'
The force said people had been out on the river in boats and although they "understand their willingness to help, it is not a safe environment and could hamper the co-ordinated search".
On Thursday, the area between the dockyard and citadel was searched, and, on the Cornish side, the focus was between Mount Edgcumbe and Millbrook, including the St John's and HMS Raleigh areas.
Jordan was seen on CCTV jumping from the side of the chain-link ferry as it crossed the river.
Police said it was believed he had been with a group of friends as the ferry was approaching Torpoint when he jumped.
Jordan is a year 11 student at Stoke Damerel Community College.
Principal Carol Hannaford said the thoughts of the school were with Jordan's family.
She said: "We can't imagine what they must be going through. I would like to pay tribute to all those involved in the search for Jordan."
Torpoint ferries are pulled across the River Tamar on chains and are an important travel link between Plymouth and Torpoint in Cornwall.