Blue Christmas lights cause 'difficulties' for police helicopters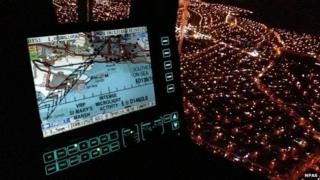 Blue outdoor Christmas lights have caused "havoc" for police helicopter crews trying to spot emergencies from the air, it has been claimed.
The National Police Air Service (NPAS) has 25 aircraft to support police forces across the country.
Its Boreham base in Essex said it had noticed an upsurge in the number of homes with blue Christmas lights.
They claim the outdoor decorations have made searching for a "set of blues" at night difficult.
The issue came to light, after a message was posted on the social media site Twitter by the NPAS's Boreham team.
It said: "Blue lights are the must have outdoor accessory for 2012. Plays havoc when you're looking for a set of blues."
'In the blood'
Tactical flight officer PC Paul Gridley said: "When we are approaching a scene, usually at 1000ft, we tend to use the blue lights of emergency vehicles as one way of guiding us into the scene, especially in areas where there are few other identifying features, be that dark rural or heavily populated town areas.
"This can be done from some distance off and is an effective way of reaching our required location.
"At Christmas time, we look out the windows of the aircraft and see a plethora of flashing blue lights everywhere, making it far more difficult to spot the police or other emergency vehicles and therefore identify the scene from a distance."
For the past few years residents in Nayling Road in Braintree have banded together to decorate their entire street with lights and displays during the festive season.
But organiser Neil Jesse said blue lights had become so common, he was now veering away from blue in favour of other colours such as whites, greens and reds.
'Blue phase'
"We've decided to get some more multi-coloured lights," he said. "Though I do have a neighbour who is a former traffic policeman and he had blue lights. I think it is in the blood."
This year's Nayling Road display - which is now being taken down - is expected to raise about £400 for the Essex Air Ambulance.
Lumalite, based near Halifax in West Yorkshire, is one of the UK's biggest manufacturers of Christmas lights and its products featured in the closing ceremony of London 2012.
A spokeswoman for the firm said although there was a "blue" phase a couple of years ago, there had not been a surge in demand this year.
She said: "We have not seen any increased sales of blue this year, people have veered more towards other colours and white."