Flooding problems continue for homes by River Thames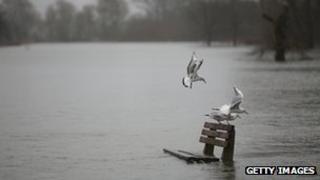 Homes along the River Thames are continuing to suffer from flooding, but the Environment Agency said the situation was set to improve.
River levels have stabilised but a number of flood warnings remain on the Berkshire-Oxfordshire border, including the rivers Loddon and Kennet.
Properties in Wargrave, Purley and Shiplake are among the worst affected.
The forecast for the weekend ahead in south-east England is for more dry weather in the Thames Valley.
Tony Allerton, from Bourne End, Buckinghamshire, was flooded over Christmas for the fifth time.
He said: "Since Boxing Day, it's been a question of mopping up and getting on with it.
'Nearly a foot'
"Despite living in an idyllic setting, hand on heart this is the last time I can put up with it. It's time to move out.
"We had nearly a foot of water come into the house this time and it really gets you down."
Dave McKnight, from the Environment Agency, said the River Thames continued to flow extremely fast.
He said: "Lots of areas are still on flood alert and warnings remain in place.
"We expect water levels to drop off, but upstream in Oxfordshire there's still lots that needs to flow through.
"As the tributaries begin to flow through, that will keep levels high, even if we have a few dry days on the forecast.
"In low lying areas, like Purley and Sonning in Berkshire, the water will take some time to drain away."