Flood risk from rising ground water in North Yorkshire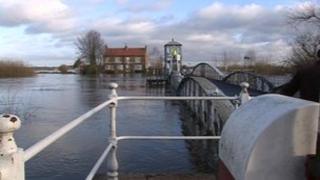 Parts of North Yorkshire are at risk of flooding from ground water levels, according to the Environment Agency.
Fourteen flood warnings remain in place on the rivers Ure, Ouse, Nidd, Wharfe and Swale.
An agency spokesman said river levels had begun to recede but groundwater levels downstream of York were high and areas around Malton were most at risk.
The A19 in York was closed because of flooding but has since reopened. Several minor roads were also closed.
Craig McGarvey, from the Environment Agency, said: "The situation is improving. The River Ouse in York has peaked and is falling.
"It got quite high at Cawood last night at about 7.5m (25ft) but that was less than we experienced back in September.
"All the records have been broken across Yorkshire for groundwater levels.
"In Malton... because there's so much groundwater still to come out, we'll be pumping for quite some time I think, just to keep properties protected."