New bovine TB measures introduced in England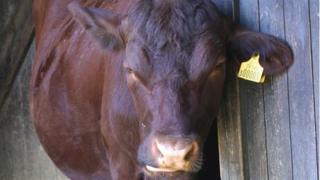 Tighter control measures to reduce the risk of bovine TB spreading between cattle have been introduced in England.
Ten more counties have been put on an annual testing list by the Department for Environment, Food and Rural Affairs (Defra).
The remaining counties will be placed on four-yearly testing.
Agriculture Minister David Heath said: "We need to stop the spread of bovine TB, which led to the slaughter of 26,000 cattle last year alone."
Cheshire, Derbyshire, Nottinghamshire, Leicestershire, Northamptonshire, Oxfordshire, Buckinghamshire, Berkshire, Hampshire and East Sussex will be placed on the annual testing list.
These additions reflect what Defra believes are areas which are at greatest risk from the geographic spread of TB "in the short to medium term".
Counties already on the annual testing list are: Cornwall, Devonshire, Somerset, Dorset, Avon, Wiltshire, Gloucestershire, Worcestershire, Herefordshire, Shropshire, Staffordshire, West Midlands and Warwickshire.
Tighter controls, which came into force on 1 January, include changes to cattle movement.
These include:
Farmers who have had a case of TB in their farm will not be allowed to bring new cattle in until the rest of the herd has been tested for TB and a vet has carried out an assessment
Farmers now have 30 days, down from 60, to move cattle that test negative for TB from a TB breakdown farm
Approved Quarantine Units (AQUs) are going to be phased out as they are considered too risky
TB free cattle are sent to Approved Finishing Units (AFUs) from TB infected farms for fattening before they are slaughtered
Mr Heath said: "These strengthened measures, alongside our badger control policy and the ongoing development of vaccines, are about reducing risks from all possible sources of TB infection to help control the disease and eventually eradicate it."