Derriford Hospital's New Year's Day baby 'flurry'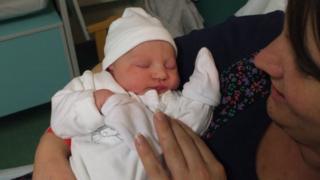 Five babies were born at the South West's biggest hospital in the first five hours of New Year's Day.
The "flurry of activity" at Derriford Hospital began with a baby boy at 00:23 GMT and by 05:00 a further two boys and two girls had been delivered.
The Royal Cornwall Hospital in Truro said it had delivered four baby girls by 09:00 - with the first arriving at 01:04 GMT.
Torbay Hospital's first baby - a boy - was born at 10:14 GMT.
Sister Charlotte Wilton, the labour ward co-ordinator at Derriford, said having so many babies early on New Year's Day was "very special" for the parents.
'Anxious drive'
"We deliver about 5,000 babies a year and it's just as exciting every day, but a New Year's Day baby is really lovely for the parents," she told BBC News.
"It's been a real flurry of activity and we've got another three births imminent - I've been doing this for 10 years and I absolutely adore my job."
Paul and Amy Davison from Plymstock said they were ecstatic after the safe arrival of daughter Evie, who weighed 7lb 1oz (3.2kg).
But Mr Davison admitted to a "rather anxious" drive to Derriford when his wife and first-time mother went into labour five days early.
"It was all a bit of a whirlwind - we got to the hospital at 04:25 and the baby was born 10 minutes later," he said.
Mrs Davison said she was looking forward to going home later and proudly showing Evie off to Paul's seven-year-old daughter Isabelle.
"We didn't know what we were having, but Issy wanted a girl, so she's going to be thrilled," she said.