Devon and Cornwall rail lines 'expected to reopen' soon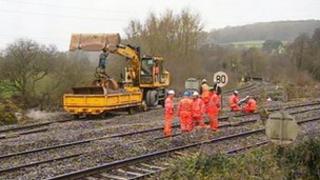 Some railway lines in Devon and Cornwall closed due to flooding are expected to reopen later in the week.
Managers at Network Rail said Devon's Tarka Line was due to reopen between Exeter and Crediton on Monday evening.
The track owner added that the Exeter to Barnstaple branch line was likely to be open for services on Tuesday, while in Cornwall, the Liskeard to Looe line was expected to reopen on Thursday.
There are 18 flood warnings and 53 alerts across in South West England.
Reservoirs '100% full'
Although rail services were to run on the Tarka Line between Exeter and Crediton, beyond Crediton was to remain closed, line managers said.
John Baker, from Network Rail, said staff had been "working hard" in affected areas, adding: "We'll get those [services] back as soon as we can".
Another band of heavy rain has been sweeping across Devon, and the Environment Agency has warned of possibly more flooding around rivers already swollen after weeks of rain.
Devon and Somerset Fire Service said it had been called to attend "various incidents of flooding in the Plymouth area".
Plymouth City Council said it had crews out clearing drains and dealing with surface water flooding after a large number of calls from people across the city.
Flood defences
Reservoirs have been reported as being 100% full in the South West Water area, meaning excess water cannot be channelled into them from overflowing rivers.
South East Cornwall Conservative MP Sheryll Murray said she wanted to know if government financial help for victims and improving flood defences would be coming soon.
She said: "I certainly hope that we're going to see it within a very short space of time. It was announced two or three weeks ago.
"My own village of Millbrook has been flooded three times in the past few weeks.
"People can't be expected to put up with this for very long and, of course, we still have winter months to come."