South West landslip warnings being ignored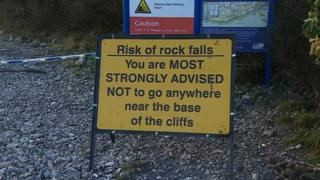 People are putting their lives at risk by ignoring landslip warnings around the South West coast path.
Heavy rain over recent weeks has caused a series of landslips in Cornwall, Devon and Dorset.
But the Maritime and Coastguard Agency says some walkers have disregarded warning signs by stepping over tape in dangerous and fragile coastal areas.
Some route changes have already been made but the continuing rain could result in more landslips.
The South West Coast Path Association said warning signs and path closures had been put in place for public safety and should be heeded.
It said although wardens and rangers inspect the path, with a total of about 630 miles (1,014km) to cover as well as an inland network of paths which have also been hit by flood damage, it has to rely on the public to obey the warnings already in place and also highlight any new problems.
It also said the coast path would be muddy and slippery so anyone walking should have appropriate footwear and, where possible, stay on surfaced sections of the path.