Thames Water says drainage system 'overwhelmed'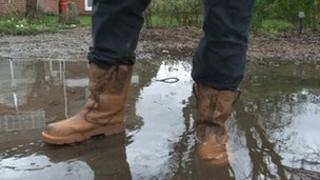 Thames Water has admitted its drainage system has been overwhelmed by recent heavy rain and flooding.
The company has received calls from a large number of customers reporting problems such as overflowing sewers and drains.
Flood warnings have eased along the River Thames following peak water levels at the weekend.
But some homeowners in the Thames Valley have been affected by drainage flooding for more than 10 days.
Richard Berkley has had to contend with foul-smelling water around his home in Playhatch, near Reading.
He said: "It's continually coming from the drains. It's not just flood water, it's sewerage coming up too and it's a serious pollution problem.
"It's unbearable, it stinks."
'Soaked sponge'
Thames Water said its engineers have been on site in Playhatch, but stressed some sewers are struggling following the wettest year on record.
Natalie Beckerman, customer service director, said: "While our network is operating largely as it should, it is struggling with the sheer volume of water going through it.
"Ground, which is already sodden, is like a soaked sponge, meaning flood water is running across the surface and into our sewers.
"They are designed to take wastewater from homes and businesses, not rivers too."
The company added the volume of calls it is receiving means response times are likely to be slower than normal.
In Oxfordshire, council workers have been busy pumping flood water out of drains and putting temporary flood defences in place.
The Environment Agency has been clearing "pinch points" along the River Thames to ensure water continues flowing further downstream.