Sonning Bridge shut as Thames Valley flood problems continue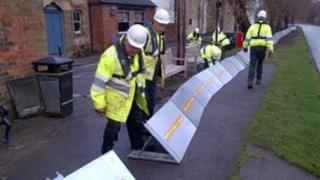 Flooding is continuing to cause problems across the Thames Valley.
Sonning Bridge in south Oxfordshire remains closed with the road between Playhatch and Sonning impassable.
Emergency flood barriers were installed on Osney Island, Oxford and water is being pumped from River Thames-side streets in Purley, Berkshire.
Dozens of flood warnings remained in place for the Thames and its tributaries on Thursday night including sites in Windsor, Reading and Oxford.
Waters levels are being monitored at an electricity distribution centre near Reading threatened with flooding.
Fire crews helped prevent water damaging the substation on Boxing Day which supplies about 40,000 properties in Reading and south Oxfordshire.
Pumps have been left at the site with firefighters on standby to return if needed.
Southern Electric said it was working with the Environment Agency to remove water.
A spokesperson said: "There are no customers affected by the flooding at the substation and we are taking all available actions to ensure security of supply to customers."
The Environment Agency said it would close the Thames Barrier near the London stretch of the river again on Thursday evening after reopening it at 15:00 GMT.
The barrier, at Woolwich in south-east-London, was due to start closing at 22:15 GMT and to reopen by 03:00 GMT.
An Environment Agency spokesman said it would provide a "very slight benefit" to those living by the river in Oxfordshire and Berkshire because the river would "drain slightly more" into the estuary.
The Jubilee River, a flood relief channel which diverts flood water away from the River Thames, will protect up to 3,300 properties in the area.