Plymouth stroke service sees 'remarkable' recovery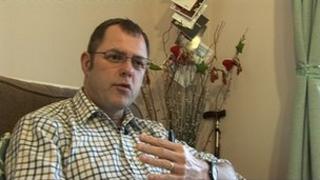 A service that helps people recover from strokes at home has seen "remarkable" improvements in patients' health, it says.
Plymouth Community Health Care provides daily physiotherapy, occupational and speech and language therapy in patients' homes.
It said patients seemed able to achieve more among their own support network.
Patient Mark Scarrott from Plymouth said: "I feel a lot better than I did before."
Mr Scarrott, who had a stroke in May and stayed in hospital until September, said: "I think my talking is a lot better now, and my walking, and I can go outside."
More than 100 patients have so far received treatment from Plymouth Community Healthcare's early supported discharge team, which started in May. It supports patients in Plymouth, South Hams, west Devon and east Cornwall.
Helen Thorn, a speech & language therapist, said: "We've seen patients achieve some really remarkable goals.
"When they're in their home setting its totally different, they've got their spouses with them, they've got their families they've got friends and the mood of the patient just sky rockets and they're able to achieve so much more."