Home Office gives extra £500k to tackle gang violence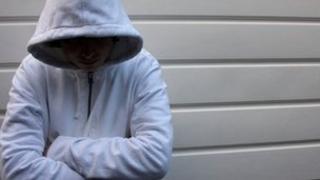 An extra £500,000 is to be spent on tackling youth violence, the Home Office has announced.
The cash is aimed at encouraging young people at risk of becoming offenders and existing gang members around the country on to a different path.
The Home Office also said it would expand its Ending Gang and Youth Violence team to cover more areas.
The cash is in addition to the £18m already spent on working with police and others to tackle gang violence.
The Home Office announced it would expand its Ending Gang and Youth Violence team to cover three more priority areas including Merton and Hammersmith and Fulham in London, and Leeds.
It previously covered 29 priority areas.
'Alternatives to gangs'
Home Office minister Jeremy Browne said "a disproportionate amount" of the money and expertise would be earmarked for London.
"Because sadly but frankly London has a greater problem with gangs than many other parts of the country," he said.
Victims of gang violence in the capital include Agnes Sina-Inakoju, who was shot dead in Hoxton, east London in April 2010; and five-year-old Thusha Kamaleswaran, who was paralysed after being shot in Stockwell, south London, in 2011.
Mr Browne said: "People right across London and across the country are very concerned about gang violence and gang membership generally.
"We want to work with areas where this has been a problem, to try and make sure we are helping them, working with the police, working with local councils, trying to spread the best practice."
He said the money will be spent on grassroots community groups with a track record of reducing gang violence, such as mentoring schemes, sports groups and youth clubs to "try and make gang members see there are other alternatives to being in a gang".
Metropolitan Police figures suggest about 60% of knife crime attacks are carried out in a gang context.
The funding will provide up to £10,000 each for 50 community organisations, a Home Office spokeswoman added.