New soup kitchen opens for Christmas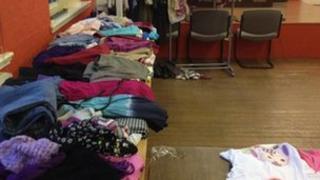 A Nottingham women's centre has opened a soup kitchen and drop-in centre for families in need for the first time.
The facility on Chaucer Street in the city was opened because organisers found more and more women were asking for help.
Manager Melanie Jeffs said the women would be offered food, clothing and advice.
A Lincolnshire-based charity in Boston is also handing out hampers to those in need.
'Festive cheer'
"We have a soup kitchen as well as some activities for families with children to spread a little festive cheer," Mrs Jeffs said.
"It is a chance to get some food and clothes and any other assistance they need."
Centrepoint Outreach is distributing food parcels in Boston because people often need more help at Christmas, spokesman John Marshall said.
A restaurateur in Leicester has prepared dozens of Christmas meals for the city's homeless.
The meals are provided by the Case restaurant run by David Hartthorn in conjunction with the Bridge centre, which is run by the Salvation Army.
The Leicester group expects about 110 people to be served with a Christmas meal this year.