Surrey sailor John Fairley raises funds for Help for Heroes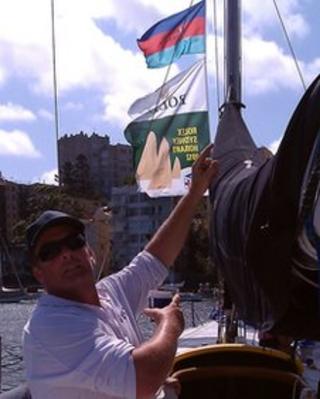 A Surrey businessman is raising money for wounded soldiers by sailing in one of the world's most gruelling races.
Ex-paratrooper John Fairley, from Camberley, is taking part in the Sydney-Hobart Yacht Race, which starts on 26 December in Sydney Harbour.
He is raising money for Help for Heroes and Pilgrim Bandits, both of which have helped Ben Parkinson, the most injured soldier to survive the Afghan conflict.
L/Bdr Parkinson is a member of Mr Fairley's old 7th Parachute Regiment.
"Ben has made an amazing recovery over the last seven years," said Mr Fairley.
"He can just walk, although it is early days yet. His mother and father are doing an incredible job to support him and Help for Heroes and Pilgrim Banks support him tremendously as well.
"We had raised about £8,000 before I left the UK and we are hoping there will be more when I get back."
Doncaster-based L/Bdr Parkinson was among the 8,000 Olympic Torch bearers leading up to the London 2012 Olympics.
'Fastest ever'
Mr Fairley was injured himself while serving with 41 Commando Group and spent a year at the military rehabilitation unit at Headley Court, near Epsom, which has been a major beneficiary of the Help for Heroes charity.
The experienced sailor is part of a 17-strong crew on the racing yacht Merit.
He said he had always wanted to do the Sydney Hobart race.
"The weather forecast is excellent in terms of the race and they are reckoning it could be the fastest ever, so it is very exciting," he said.
"Your chances of sleeping are pretty remote but you have only got three-and-a-half days to suffer, so it is worth it."