Flooding brings travel delays and cancellations as rain returns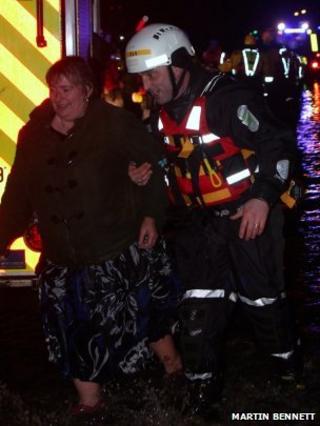 Nearly 150 flood warnings remain in place across England as more wet weather causes further flooding and travel disruption.
The Environment Agency said widespread showers meant many places remain on alert despite rain expected to ease over Christmas Day.
There are currently more than 70 flood warnings for the Midlands, 30 in the South West and 12 in the North East.
Rail services across England have been severely disrupted.
Rail disruption
The railway line between Swindon and Bristol Parkway is closed, causing delays on the line from Paddington through Didcot Parkway.
Flooding at Cowley Bridge railway junction in Devon means that trains will not run between Exeter St Davids and Tiverton Parkway until Friday at the earliest, with buses taking the place of trains.
Plastic dams were used to prevent water from reaching a nearby signals box which, if flooded, could have led to several weeks of repairs.
The railway line between Plymouth and Exeter is also closed at Teignmouth where there has been a landslide.
One passenger at Exeter station told BBC News: "I'm just trying to get home for Christmas - last-minute journey home and this is the start of the journey - it's not gone too well so far.
"I've got to get a bus in 10 minutes to Tiverton and then try to get to London Paddington and eventually down back to Kent, where I'm from."
First Great Western has advised passengers not to travel if at all possible.
The Environment Agency said almost 20 flood warnings remain in force across Herefordshire and Worcestershire, including stretches of the Wye, Avon, Teme and Severn.
A number of roads across the two counties are closed because of rising flood water. In Gloucestershire, a motorist was rescued from her car at Saul, near Frampton-on-Severn, after becoming stuck in flood water.
River levels across Oxfordshire are being closely monitored from a new control centre at Wallingford. Temporary barriers have been put in place on Osney Island in Oxford as a precaution.
In Braunton, North Devon, volunteers have been helping to fill sand bags and firefighters have been pumping water away from the town centre after the River Caen burst its banks over the weekend.
Julian Poulter, who is among traders who have been bailing out and cleaning up, has filled about 40 bin bags with wrecked goods from his gift shop.
"You name it, it's there - books, candles and £200 toasters," he said.
"We've had hardly any sleep in the last two days."
North Devon Council leader Brian Greenslade said staff were standby if the situation deteriorated again throughout the next few days.
"As far as we know, it's business as usual for most shops in Braunton so please go along and buy local goods to help them salvage something from these terrible events," he said."
Also in North Devon, about 1,000 tonnes of earth fell 150ft down a hill, covering a train track at the Combe Martin Wildlife & Dinosaur Park.
The charity ShelterBox has been helping with rescue operations in Cornwall by co-ordinating evacuations in Lostwithiel.
Response team members matched the displaced families with people willing to provide rooms in their homes in the area.T
On Sunday, RNLI rescuers said a woman was "lucky" to survive after she was swept from a stricken car at Umberleigh in Devon.
Vanessa Glover managed to cling to an over-hanging branch for 50 minutes when the River Taw burst its banks.
Forecasters are predicting the rain will spread north east on Monday, bringing a risk of further flooding.
In just five days, some areas have exceeded their full-month December average such as Plymouth, which has seen 129mm of rain since 19 December compared with a December average of 119mm.