Fourth South East hub airport plan branded 'ludicrous'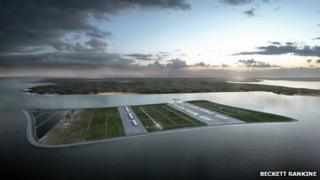 Plans to build a £39bn hub airport on sandbanks off the Kent coast have been branded "ludicrous and ridiculous".
Conservative MP for Dover, Charlie Elphicke, and the Campaign to Protect Rural England (CPRE) both oppose the plan for a 24-hour four-runway airport.
Engineering firm Beckett Rankine wants to build on Goodwin Sands, near Deal.
It said the Sands could support an aviation hub and the site did not have the environmental and logistical issues of plans for the Thames Estuary.
Eurostar said it was watching developments with interest and the president of an economic organisation in Calais believes the plan has real potential.
'Serious environmental issues'
Mr Elphicke said: "I don't think it makes a lot of sense at all. I think it's a ludicrous idea and it's not economically viable."
The Goodwin Sands are a series of shifting sandbanks that are also the site of hundreds of historic shipwrecks - a fact Mr Elphicke feels would make construction problematic and expensive.
"There are serious environmental issues with the Goodwin Sands, serious issues in terms of graves of ships, war graves, from shipping, military shipping, that has gone down there in past years. [It] is the sort of thing that will be highly disruptive," he said.
Beckett Rankine thinks the site's proximity to London - via the HS1 high-speed rail line, A2, M2 and M20 roads - and Europe would make it attractive to air passengers.
Mark Norman, BBC South East's Business Correspondent, said the Goodwin Sands Airport was being called a "hub for northern Europe" and was a serious proposal.
Thaddee Segard, who represents the Opale coastal area in France, said a hub airport in Kent could prove very popular with millions of people on the other side of the Channel.
He added: "There's huge potential on the French side. Brussels is a minimum of three hours away and Paris is even further. To get to Deal would take no more than two hours.
"There are 4.5 million people in Nord and Pas-de-Calais. People in the northern part of Belgium would be interested too.
"If you have this airport in Kent in Deal it will be very, very convenient for people."
'Future opportunities'
A Eurostar spokesperson said: "We are always interested to hear about developments in the travel and tourism industry, including the news of the proposed Goodwin sands airport.
"With a number of competing schemes currently on the drawing board, we will watch the debate with interest.
"High-speed rail is a central part of the transport mix, and we continue to look out for future opportunities."
CPRE spokesman Jamie Weir said Manston Airport in Thanet had plenty of runway capacity and questioned whether the South East actually needed more airports.
He added: "The question of whether we actually need fresh capacity is the one which needs to be answered before we start looking for sites.
"This proposal, like all of those in the Thames Estuary, fails to even recognise this.
"We believe that the UK Government must prove the need for additional capacity before anything like this is contemplated."
Other proposals for increased airport capacity in the South East have included the expansion of Gatwick and Heathrow and more use of regional airports.
There have also been three different plans to build airports in the Thames Estuary - a floating airport designed by architects Gensier, another plan known as Boris Island after it was backed by London mayor Boris Johnson, and proposals for a hub airport on the Isle of Grain designed by architect Norman Foster.