Bradley Wiggins Olympic throne to help raise charity funds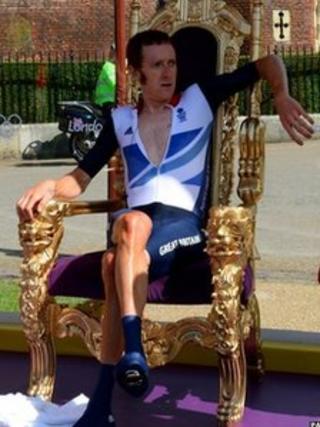 People are being given the chance to pose on the throne cyclist Bradley Wiggins sat on after winning gold at London 2012.
The chair recently failed to reach its estimated price of between £10,000 and £15,000 when it was auctioned.
Cricklewood-based prop hire firm Theme Traders said it had decided to keep the chair as it was such an "iconic" item.
Director Kim Einhorn said they were going to use the chair to help raise funds for the Pod Children's charity.
'Picture with chair'
She added: "In the new year, if people want to come down to the showroom we will let them have their picture taken in the chair.
"All we ask is that they donate £50 to the Pod Children's Charity."
She said they might lend the chair to other charities for use at events.
Wiggins, 32, became the first British cyclist to win the Tour de France weeks before landing gold at the Olympics.
The time trial victory, which passed through Elmbridge and several Surrey towns before ending at Hampton Court Palace, was his fourth Olympic gold and seventh Olympic medal.
Theme Traders made the chair for the Olympics.