Source of Stilton cheese's unique smell revealed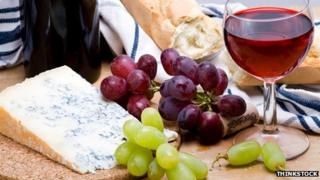 It is a favourite food at Christmas, often served with a glass of port.
Stilton is known as much for its unique smell as for its strong taste and distinctive blue-veined appearance.
But exactly what gives it and other blue cheeses their particular aroma has always been a mystery.
Now scientists at the University of Northampton and University of Nottingham have pinpointed for the first time the yeast that enhances the smell of the cheeses.
A study has been looking at the role of various micro-organisms in the production of the East Midlands' famous blue cheeses, like Stilton.
Scientists used a team of trained sensory experts to work out which particular strain of yeast was responsible for the smell.
They hope their work could lead to better quality and consistency and fewer defects in the manufacturing process.
'More consistent'
Micro-organisms - known in the trade as starter cultures - are added to milk in the manufacture of cheeses.
But "secondary flora" - mainly present in the atmosphere - find their way into the cheeses and help to give them their special character.
Although the mould Penicillium roqueforti is added by manufacturers to produce the "blue" in cheeses, researchers found a yeast called Y. lipolytica directly influenced their smell.
"The panel was able to discriminate between samples with different yeast levels, suggesting that the variation in microbial flora was noticeable in the aroma," said Dr Kostas Gkatzionis, of the University of Northampton.
"Limiting aroma variation is paramount to producing more consistent blue cheeses."
The research project received a £53,000 grant from The Food and Drink Innovation Network (iNet).
Director Richard Worrall said: "Ultimately, we hope this work will lead to greater consistency during production for Britain's cheese-makers, which will help them achieve a greater slice of the worldwide blue cheese market, which is worth millions."
Scientists worked on the project with Stichelton Dairy at Cuckney, near Mansfield, Nottinghamshire.
The dairy produces a blue cheese made from raw milk which, although similar to the famous cheese, cannot be called Stilton.
The name is protected by European Union law and can be applied only to cheeses that meet strict criteria.
Currently only five dairies, in Nottinghamshire, Leicestershire and Derbyshire, are licensed to produce Blue Stilton.