Hart in Hampshire remains UK's most desirable place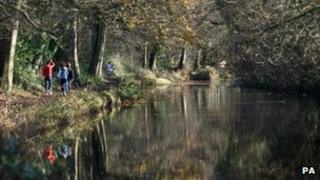 Hart in Hampshire has been named the UK's most desirable place to live for quality of life for the second year running.
The study by the Halifax bank took into account factors such as jobs, housing, health, life expectancy, crime, weather, traffic and house prices.
Hart district, centred on the town of Fleet, beat previous four-time winner Elmbridge in Surrey into second place.
Nowhere in the north of England, Northern Ireland, Scotland or Wales was in the top 50.
The annual survey shows districts in south-east England to be increasingly more desirable, with 30 districts in the top 50, up from 27 last year.
Hart, in the north-east corner of Hampshire, has been dubbed "a step back in time", with 84 sq miles of green wooded landscape and the county's largest freshwater lake, Fleet Pond.
Halifax economist Martin Ellis said: "While not necessarily being the leading district across all measures, Hart comes out on top because it scores consistently highly across nearly all indicators.
"In particular, Hart residents enjoy good health, high employment, low crime, and high quality schooling."
The study found Hart residents can expect to live longer than the average Briton, with the average life expectancy at 81.7 years for men, compared to the national average of 79.
Employment in Hart is at 78.6% - well above the national average of 70.2% - and crimes rates are among the lowest in the country.
Elmbridge in Surrey, known locally as "Britain's Beverly Hills", topped the survey in 2006, 2008, 2009 and 2010 and still has higher average weekly earnings, at £1,162 compared to Hart's £830.
Wokingham held the title for a year in 2007 only for Elmbridge to regain its title again the following year.