Turtle dove numbers fall in East Anglia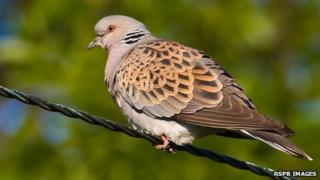 The carol the Twelve Days of Christmas has been popular for more than a century but today's "true love" would find it difficult to find 22 turtle doves.
Experts are warning the bird is being driven to extinction.
Once widespread in East Anglia, turtle dove populations, currently estimated at 14,000 pairs, are in decline.
Alison Gardner, from Norfolk-based Operation Turtle Dove, said it was distressing nearly 60% of turtle doves were lost in the five years to 2010.
"If this decline continues we could be down to fewer than 1,000 pairs by 2020, with complete UK extinction a real possibility, she said.
The true love in the Christmas carol sends two turtle doves on 11 of the 12 days of Christmas so he needs 22 each time it is sung.
He would have to go looking for the birds in spring and summer.
Sightings of turtle doves are made in Cambridgeshire, Essex, Norfolk, Suffolk and Kent between April and August when they visit from their winter home in arid sub-Saharan west Africa.
Illegal hunting of the birds and changes in land use in Africa and Britain are contributing to the decline but work between the RSPB and BirdLife International is helping to reduce these impacts.
In the UK seed-rich plants that turtle doves historically feed on are under threat.
Brin Hughes, from Conservation Grade, said: "The turtle dove will definitely be consigned to the history books if we don't create more nesting and feeding areas in the UK countryside.
Unmistakable call
"All our farmer members are helping to encourage these birds by growing seed-rich plants on their farms, and consumers can also do their bit by including conservation grade cereals in their weekly shop."
Chrissie Kelley, head of aviculture for the Pensthorpe Conservation Trust in Norfolk, said: "The Pensthorpe Estate has had a long association with turtle doves with their unmistakable call being heard across the reserve and farmland during the breeding season.
"Sadly year on year less have been heard and this is despite the work we have undertaken to improve the habitats generally which should benefit them.
"This year just two territories were identified which is down on last year."
Triggered by the impending crisis facing turtle doves, Operation Turtle Dove was launched in May as a three-year collaborative project between the RSPB, Conservation Grade and Pensthorpe Conservation Trust, supported by Natural England.