Chilford Hall barn arson: Two from Haverhill convicted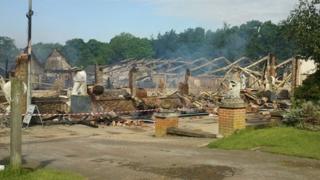 Two men have been convicted of arson over the burning down of a wedding venue in Cambridgeshire.
It follows an incident in which an 18th Century barn was torched at Chilford Hall in Linton in June.
Mark Hall, 28, and Thomas Richardson, 27, both of Haverhill, Suffolk, were accused of arson being reckless as to whether life was endangered.
A Cambridge Crown Court jury convicted them of arson, and they will be sentenced on 8 February 2013.
Judge Gareth Hawkesworth said the pair should expected substantial custodial terms.
He asked for psychiatric reports on both of the men before sentencing and remanded them in custody until 8 February when they would return to the court.
Hall, who is autistic and has learning difficulties, spoke through an intermediary throughout the trial and admitted he had been drinking heavily on the night of the arson attack.
Richardson had worked at the venue and was said to have borne a grudge over being sacked for stealing alcohol.