Naked rambler Stephen Gough to spend Christmas in jail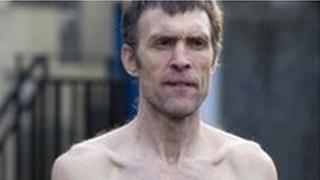 Naked rambler Stephen Gough will spend Christmas in prison after his application for bail was refused.
The 53-year-old was arrested in Carterton, Oxfordshire on suspicion of outraging public decency on 4 December.
He was represented in his absence at Oxford Crown Court after refusing to wear any clothes to the hearing.
Mr Gough had requested to spend Christmas at home in Eastleigh, Hampshire. His application for bail will be heard again on 25 January.