Kevin Lavelle 'dumbbell' murder police travel to Wales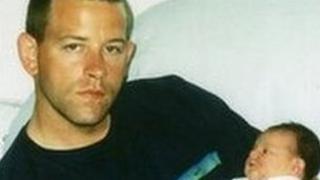 Detectives trying to solve the murder of a man in a pub fight in Oxfordshire eight years ago are revisiting south Wales, where his killers were from.
Kevin Lavelle, 29, of Bootle, Merseyside, was attacked with an iron dumbbell outside the Cricketer's Pub in Grimsbury, Banbury, in June 2004.
He got into an argument with several Welshmen who were also staying at the pub. He suffered 50 injuries.
An inquest ruled in 2009 that the father of two was unlawfully killed.
No-one has ever been convicted over his death.
Ceri Noble, of Rhondda, south Wales, was charged with Mr Lavelle's murder but the court case collapsed in 2006 when it could not be proved who dealt the fatal blow.
Mr Lavelle, a crane driver, was working in Banbury to save money for his wedding.
His partner Michelle said: "He was a real family man and just wanted the best for his kids.
"He just went out to work Monday to Friday and loved to come home at the weekend to spend time with me and the kids."
'Last chance'
There is a reward of £25,000 on offer for information leading to a conviction of his killer or killers.
Det Insp Steve Duffy, who is leading the investigation, said: "There were people from the Pontypridd area of Wales in the pub at the time Kevin was killed who could be key witnesses.
"I also know there are people in the local Banbury area who are aware of what happened that night.
"This is the last chance for anyone with information to come forward, no matter how insignificant you believe the information to be.
"If we find out that anyone has withheld evidence or deliberately hindered the investigation I will recommend that they are severely dealt with.
"I am sure the guilt of knowing this information will never go away.
"We need to work together to help bring some closure to Kevin's family, especially at this time of year."
The reward is made up of £10,000 from Thames Valley Police and another £10,000 from the Justice for Kevin Lavelle fund.
The Crimestoppers charity has also offered £5,000.