Man who posted burning poppy on Facebook meets soldiers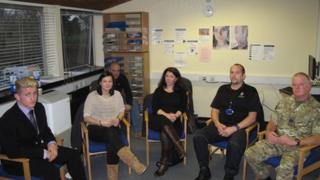 A man who was arrested after posting a picture of a burning poppy on Facebook has met soldiers to apologise.
Linford House, from Aylesham, Kent, met a serving and former soldier, and representatives from the Royal British Legion and an armed forces charity.
The 20-year-old was arrested after posting the image online alongside an offensive comment about soldiers.
During the meeting on Wednesday, which was part of restorative justice, he said he was "deeply sorry".
'Upset and disgusted'
He said: "I think about it every day and it's always in the back of my mind.
"I've lost friends over what happened but I didn't want to hide away - I wanted to make things right as much as possible.
"The poppy is a symbol of peace and I shouldn't have done what I did. I'm sorry to everyone that it's offended."
Nikki Scott, who founded charity Scotty's Little Soldiers after her husband Corporal Lee Scott was killed in Afghanistan, met Mr House.
She said: "My family and I learnt the hard way about what a poppy means and stands for and when I saw the picture I was hurt, upset and disgusted.
"It was good to see Mr House talk to us and apologise and hopefully he will be able to go someway to making up for some of the offence he caused."