Connor Rowntree's family look forward to Christmas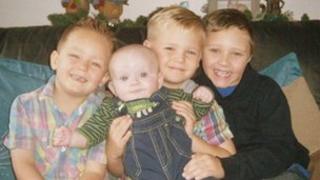 There will be 13 people in the Rowntree house on Christmas Day, despite the fact that the family finances have been hard hit over the past few years.
Nine adults and a baby squeezed around the big table, and three children eating dinner from a decorated coffee table at their Houghton-le-Spring home.
Hosts Carol and Neil Rowntree used to run a pub and would spend Christmas Day behind the bar serving other people.
This year they will spend precious time with children Leanne, 30, Jodie, 27, Ceri, 25, and Connor, 18.
The family was shocked in 2009 when Connor, then 15, suffered 90% burns while playing with an aerosol can and petrol.
Income hit
The teenager had 100 operations and his parents were told his chances of survival were "zero".
But three years on, Connor is fronting fire safety campaigns and is training to be car spray painter.
The couple could not be more proud of Connor's recovery, but their income has been hit hard.
Mr Rowntree, 47, had to give up work as a chef and become Connor's carer and Mrs Rowntree, 48, only works 16 hours a week in a bookmakers.
The family is not alone in cutting back, according to the Unite union.
It carried out a survey among 8,500 members and found 60% admitted they had cut back on spending this Christmas and a fifth would borrow £700 on average to make ends meet.
'Enjoying every moment'
Of those cutting back, 46% said they would have to spend less on presents and 25% said they would spend less on food.
The Rowntrees are looking forward to their grown-up children and Mrs Rowntree's mother Anne, 68, coming round on Christmas Day but will not be spending more than they can afford.
The adults do not buy each other anything and the couple have a strict budget for grandsons Ayden, eight, Corey, seven, Layton, five and six-month-old Lewie.
Mrs Rowntree said: "Christmas Day is wonderful in my house - it's about spending time together as family and enjoying every moment.
"Decorations haven't cost us a penny for years. We don't have to replace lights because we put them away neatly and they don't break.
"We know how lucky we are to have pulled out the other end of such a horrific experience and we cherish every special day, probably more than most."
This year grandma and granddad have bought the boys each a scooter and the baby a high chair at £49 each, a total spend of £196.
On top of this the couple is spending a further £60 on stocking fillers from Primark.
The family is having a £20 turkey crown rather than a whole bird this year and the meal for 13 is setting them back just over £40, including vegetables.
Mrs Rowntree said: "I don't have credit cards, you don't spend what you haven't got.
"I can't understand when you see people with three trolleys full of food. The shops are only shut for one day.
"I treat Christmas dinner like the Sunday roast, only a bit fancier with pigs in blankets and red cabbage."