Fears over risk to newborn babies in West Midlands region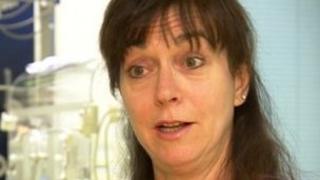 There are fears that newborn babies and their mothers are being put at risk across the West Midlands region because of a lack of coordinated care.
A leading consultant, Dr Alison Bedford-Russell, said she had been trying for years to organise more joined up maternity and neonatal services.
She has written to the South Shropshire coroner following the death of baby Kate Stanton-Davies, who lived for just six hours after a catalogue of errors.
The coroner, John Ellery, has also written to Shrewsbury and Telford Hospital and West Midlands Ambulance Service using his powers under "rule 43" asking that they make changes.
Clear guidelines
Kate's birth was considered low risk, even though her mother had had two stays in Shrewsbury hospital and nine baby traces taken before she was born in Ludlow in 2009.
She was born pale and floppy at birth, but there was a delay in recognising that she was seriously ill.
The baby was transferred to Birmingham by helicopter, but the parents did not know where she had been taken and were not given transport.
Her mother, Rhiannon Davies, collapsed en route and did not reach her baby before she died.
Dr Bedford-Russell, who leads the South West Midlands Newborn Network, said when she received the baby she had no information to help treat her.
She said that the NHS owes it to the family to get it right and ensure more streamlined care.
Dr Bedford-Russell wants clear guidelines on when it is right for mothers to have babies at home or in midwife-led units, believing first-time mothers are more at risk.
She also wants better education for midwives and paramedics in identifying and treating babies in difficulty, as well as clear transport and care pathways when complications arise.
Kate's father, Richard Stanton, said that the midwifery unit in Ludlow was 40 minutes away from Shrewsbury hospital and with plans to move it to Telford, there was potential for even greater delays.
Head of midwifery at Shrewsbury and Telford Hospital Kathy Smith said: "The women and children's centre takes very seriously its responsibilities to maintain a safe service with regard to maternity.
"Since 2009 many improvements have been made to the comprehensive training that midwives receive.
"The NHS is always trying to learn and adapt to give patients the highest standards of service."
Matt Ward, from West Midlands Ambulance Service, said it was willing to look at any changes proposed by the neonatal networks.