Salisbury protesters 'knit it to the man'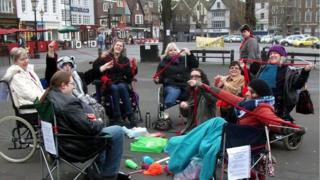 The patient craft of knitting conjures images of a warm fireside, the steady click, clack of needles creating a comforting jumper or sock.
Who knew that knitting could also line up alongside the megaphones and placards of a protest rally?
But this week Salisbury Market Place awoke to trees and signs festooned with items knitted and crocheted by hand.
The 1960s-style slogan of Knit 4 Justice is "knit it to the man." Their creations in red wool mock the red tape they claim Wiltshire Council is ignoring.
The campaigners object to the loss of disabled parking spaces as Wiltshire Council plan to create a "European-style piazza" at the centre of the city, claiming the eight spaces in the Guildhall Square are the only places within 250m of the Library, Post Office, and banks.
Council alternatives
The council says alternatives will be provided before the spaces are closed, and received more than 100 replies to a public consultation.
Salisbury Area Board chairman Richard Clewer said: "We have worked very hard with local people to come up with a design that fits with their aspirations for the squares.
"The plans include repaving the Market Place with granite and Yorkstone, adding new seating and lighting, and building new disabled toilet facilities."
But Helen Farmer for the protest group said: "This will be a disaster. Other car parks are only accessible by narrow and uneven pavements. It's hard to think of a more idiotic suggestion."
The city has a high proportion of older people. There are 6,000 blue badge holders in the Salisbury area, and there is a legal obligation for councils to provide parking spaces close to essential services.
Instead of a planning application, Wiltshire Council propose to use a traffic regulation order to make the changes.
If they hoped to avoid noisy objections, well then it worked. But the sight of disabled people quietly knitting in protest may be more powerful still.