Eastbourne cleaning company 'owes cleaners £30,000'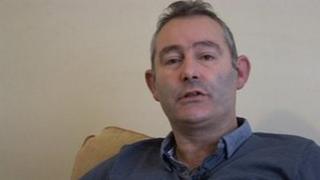 A cleaning company which has been taken to employment tribunals for failing to pay staff wages has said it has done nothing wrong.
According to the Citizens Advice Bureau, 30 people who have worked for Express Construction Cleaning, based in Eastbourne, say they are owed £30,000.
And it said it had been "overwhelmed" by former employees seeking advice.
The company said it pays all cleaners in full and only deducts money for "unacceptable" work.
Eastbourne Citizen's Advice Bureau manager Alan Bruzon said: "It's been the biggest single issue we've had to deal with in the past 12 months.
"We're also aware of people who've not approached the bureau for help."
The BBC has seen details of 12 employment tribunal rulings ordering the company to compensate staff who have been unpaid, had wages unlawfully deducted or who have been wrongfully dismissed.
'Ruined my life'
Ian Barrett, who worked for the company for a month, said he was owed £1,600.
"It ruined my life," he said. "It's very hard to forget about it - the amount of money, the effort, the hard work that I put in.
"The constant bouncing of cheques and the no response at all - it plays on your mind night and day."
However, company director Alfred Marku said all cleaners were paid "in full".
He said: "The only time we would deduct pay from a cleaner is if the work is up to a very unacceptable standard."
He added that the cleaners were aware of this when they signed their contracts.
"It clearly states that wages will be deducted if they fail the trial period or break the terms in their contract," he said.
"There is absolutely no way that Express Construction Cleaning would ever exploit cleaners or use them in any way to benefit ourselves."