Cotswolds railway cable theft gang jailed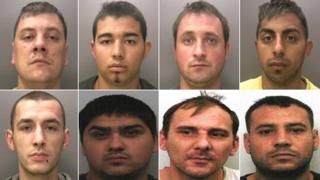 A gang of eight men has been jailed for stealing railway signalling cable in the north Cotswolds area.
The men, all based in the West Midlands, stole about 6km of cable which cost Network Rail £500,000.
The thefts occurred in Worcestershire, Warwickshire and Gloucestershire between November 2011 and May 2012.
The eight pleaded guilty at Birmingham Crown Court to conspiracy to steal and were given sentences of between 20 months and more than four years each.
They were sentenced on Tuesday and Wednesday.
Eleven men were originally arrested in May as part of the police operation which investigated the theft of cable between Evesham and Moreton-in-Marsh.
Three were subsequently released without charge.
'Little financial gain'
Helu Jan Trofin, Alin Alexandru Tofaleanu, Mihai Alexanderu Binta, and Florin Cojocaru, all of Parkhill Road, Smethwick, and Mihai Mihart, of no fixed abode, received custodial sentences.
Costinel Mijloc, 24, of Highfield Road, Smethwick, was also imprisoned along with Stefanale Ruset, 19, of Kentish Road, Handsworth, and Ionut Cristian Toader, 24, of Selsey Road, Birmingham.
Mihart, 26, was jailed for four years and five months.
Trofin, 36, and Tofaleanu, 29, were both given four-year sentences; while Toader was handed a 33-month term and Ruset given one for 30 months.
Mijloc was sentenced to two years behind bars. Binta, 27, and Cojocaru, 19, were jailed for 20 months.
Trofin, Mihart and Binta were also recommended for deportation to their home country of Romania on the completion of their sentences.
Det Insp Andy Irwin-Porter, who led British Transport Police's investigation, said: "Eight men are now facing 23 years in jail between them, despite only receiving very little financial gain from the thefts they carried out.
"We are delighted to have concluded this investigation but we will not become complacent in the fight against cable thieves who disrupt everyone's life by attacking communities, causing delays and massive inconvenience to everyone who uses the rail network."