Level crossing death crash car 'driven through barrier'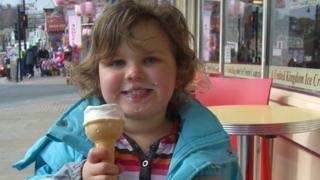 A crash between a car and a train which killed a four-year-old girl happened after the car she was in was driven through a barrier and into the path of the train, an investigation has found.
The Rail Accident Investigation Branch said records for the level crossing in Misson Springs, Nottinghamshire, showed barriers lowered as the car approached.
The funeral of Emma Lifsey, from North Lincolnshire, was held on Tuesday.
The 67-year-old woman driving the car received neck injuries.
Emma was airlifted to Sheffield Children's Hospital following the collision at the Beech Hill crossing, near the South Yorkshire border, on 4 December, but she died the next day.
An RAIB report released ahead of its investigation on Tuesday said it would be considering whether the design of road signs and equipment at automatic crossings was appropriate and whether it could be improved.
It said it would be taking into account previous accidents at Wraysholme in Cumbria and Halkirk in Caithness.
The RAIB said its investigation intended to identify the sequence of events leading up to the crash, assess the likely impact of glare from the sun on the actions of the car driver and consider the conspicuousness of equipment such as barriers and lights.
It also said there had been rain showers earlier in the day and the road surface was wet.
'Half barrier' design
A report by Network Rail in 2011 had identified the level crossing as needing improvement, stating it was "no longer suitable for half barriers" and proposed installing full barriers in April 2013.
But the company later decided, after completing a risk assessment with the Office of Rail Regulation, that the half barriers were "appropriate" for Beech Hill.
Phil Verster, Network Rail's route managing director, said: "Network Rail is upgrading the line between Doncaster and Peterborough in order to allow more trains to run.
"The Beech Hill level crossing is on this line and, working closely with the ORR, all the risks such as the number of road vehicles and the speed and frequency of trains were considered.
"This design process concluded that Beech Hill's present "automatic half barrier" design and its method of operation is appropriate for both current and future requirements and that no change from the existing design is required."
The RAIB said its report was to be independent of any investigations by the safety authority (the Office of Rail Regulation) and the British Transport Police.