HMS Protector crew brave Antarctic elements for Santa dash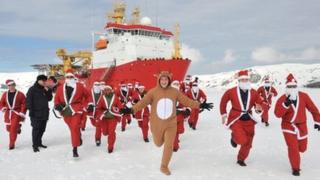 Crew members from HMS Protector have braved the Antarctic elements for a special festive run.
Dressed as Santa Claus, 20 crew from the Portsmouth-based Royal Navy ice patrol ship took to the ice in aid of charity.
The event, in the waters surrounding Deception Island, raised funds for the ship's chosen charity East Anglia's Children's Hospices (EACH).
EACH has raised more than £34,000 from seven Santa runs across East Anglia.
The team of Santas and Rudolph were sent on their way by Commander Don MacKinnon.
He said: "It's nice to be able to take a break from operations now and again.
Royal patron
"Santa's traditional home might be the North Pole, but as you can see he has helpers that visit the other one too."
HMS Protector will be operating in and around Antarctica until April 2013, supporting an international team conducting formal Antarctic Treaty inspections of sites across the peninsula.
EACH has hospices in Norfolk, Suffolk and Cambridgeshire.
The charity's patron, the Duchess of Cambridge, opened the new £3m hospice in Ipswich earlier this year which serves families in Suffolk and north Essex.