Red Arrows death: Jon Egging crash report raises risk concern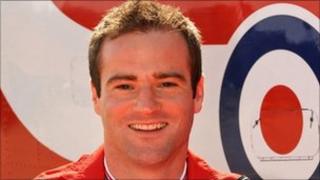 A report into the death of a Red Arrows pilot has said more could have been done to identify risks.
Jon Egging, 33, from Rutland, died when his Hawk T1 jet crashed following a display at the Bournemouth Air Festival in August last year.
An inquest found "G-force impairment" may have caused him to lose control.
A report by the Military Aviation Authority (MAA) has found that the potential for a such an accident could have been identified more clearly.
The MAA, which regulates military air safety, also raised concerns over the quality of supervision of the team.
'We're different'
It said there was a "we're different and we do it our way" elitism in the team, which required a healthy degree of external oversight and assurance to mitigate risks.
Speaking about the report, retired Air Vice Marshal Jerry Connelly, said: "In my experience, I know you will always find things that could be improved in any accident or incident.
"That's part of the process of learning so in that sense it doesn't surprise me that we've found things here."
He added: "But I would hate for anyone to get the impression that these guys and girls just go round doing what they want, when they want and so on.
"It's not that kind of organisation.
"At the end of the day a pilot has lost his life because of G-LOC (G-force induced loss of consciousness) - which has nothing to do with polices and procedures."
The earlier inquest at Bournemouth Coroner's Court was told Flt Lt Egging was experiencing a maximum 6.3 G-force - 6.3 times the force of gravity - as he broke formation before he was due to land at Bournemouth Airport.