Forced marriage phone app launched to help youngsters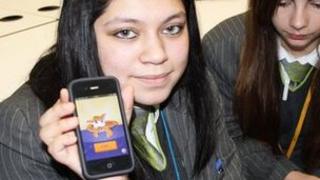 A new smartphone app to help young people who may be at risk of being forced into marriage has been launched by a London charity.
It has been designed by the Metropolitan Police together with the Freedom Charity, which works to prevent honour-related violence.
The Freedom app provides young victims with essential access to help and all the information they may need on the issue at the touch of a button.
The free app has been part-funded by the government's Forced Marriage Unit (FMU) and is free to download.
It has been designed to look like a game, so that young people do not get suspicious when someone is using it.
It includes a comprehensive check list for young people to be able to spot the signs of a forced marriage.
It is hoped it will provide key resources not only for potential victims, but also for the friends of victims as well as adults and professionals.
Empower young people
In 2011, there were 1,468 instances where the FMU gave advice or support to someone.
Det Supt Reg Hooke, of the Met's child abuse investigation command, said: "We wanted to produce something that would empower young people by giving them advice and information.
"Through this app, potential victims can identify if they are risk and by pressing on a link they can get through to organisations that can help them, including 999, ChildLine and the Samaritans."
Aneeta Prem, the founder of Freedom Charity, said: "We are trying to stay on top of new technology and the new methods by which young people are now communicating.
"We have a new generation who have smartphones and by accessing the app they are just two buttons away from getting life-saving help."
The charity is piloting the tool in schools across London at the moment but it is available to download now to anyone with a smartphone.
But some charities are sceptical about how useful the application is.
Sajda Mugal, from the Jan Trust, a women's charity, said it would have limited use.
"Many victims of forced marriage are taken abroad, and telephones are confiscated from them. So you have a victim who is half way across the world, with no phone and no internet, how are they going to access the app?"
The charity and the Met say in these cases it is hoped the victim's friends will be able to spot the signs and access help on behalf of their friends.
"If a teenage victim has had their phone taken off them, then they will no longer be in contact with their friends," said Mr Hooke.
"This can alert their best friend or other relatives that they might be in danger. The app has a particular section which will guide them to be able to identify the signs and then be able to access the necessary help."