Katrice Lee disappearance: Woman on harassment charge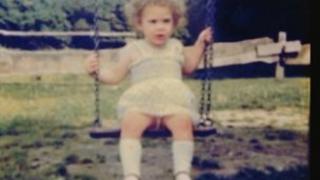 A woman has been charged with harassment after the family of a missing toddler received abusive messages on a social networking site.
Katrice Lee went missing more than 30 years ago from a shop near a British army base in Paderborn, Germany.
Katrice's mother Sharon, from Gosport in Hampshire, and father Richard Lee, from Hartlepool, believe she was snatched and could still be alive.
A Durham woman aged 33 will appear at court in Newton Aycliffe on 2 January.
Government apology
Katrice disappeared in 1981 on her second birthday while her family was out shopping for party food at a NAAFI store in Schloss Neuhaus, near the West German base where her father was stationed as a sergeant in the British Army.
Her mother left her at the checkout with her aunt for just a moment as she went to get crisps but when she returned Katrice had gone.
The case, which was never closed, is now being reinvestigated by the Royal Military Police, with fresh images supplied by the charity Missing People, which shows how Katrice could look now, aged 33.
The family have said the military police failed to interview key witnesses quickly enough after Katrice vanished.
The military police have admitted failings in their initial inquiry and Defence Minister Mark Francois has apologised to the family on behalf of the government.