Rebecca Adlington feared Olympic swimming medals were stolen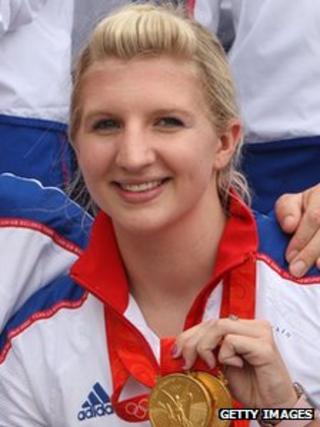 Olympian Rebecca Adlington feared her medals had been stolen after thieves broke into her home.
But police confirmed a car and a laptop were the only things to be taken from the gold medal-winning swimmer's house in Stockport, Greater Manchester.
Nottinghamshire-born Adlington initially tweeted she was in "absolute pieces" but was later "so relieved" the medals were not taken.
Greater Manchester Police confirmed her partner's black Audi A3 is missing.
Adlington, originally from Mansfield, won gold in the 400m and 800m freestyle in Beijing, and gained bronze medals in London last year.
'A horrible feeling'
Adlington had been at a tapas restaurant in west London on Monday, after which she learned of the burglary.
Writing on her website, she said: "I returned home from holiday and, instead of going home to Manchester, my fiancé Harry and I stayed in London to see his family and some friends.
"The two of us live with a friend in Manchester and, after midnight, we got a phone call from him to say our home had been broken into.
"After making sure he was ok, I asked if he could check to see if my medals were there and he couldn't find them anywhere.
"I do keep some of my medals in my house, as I'm always asked to show them off at various events."
Adlington said her immediate reaction was "an emotional one" as she had put "so much effort" into winning the medals.
She said: "I know you can't insure Olympic medals and although you can get them replaced, I'd know they weren't the originals."
The medals were eventually found, following a search.
Adlington added: "As anyone who has ever been burgled knows, it's a horrible feeling. Thank you to everyone who has been in touch to show their concern."
A Greater Manchester Police spokesman said: "At about 12.20am on Tuesday 20 August, police were called to an address in Romiley, Stockport to reports of a burglary.
"A laptop and a black Audi A3 were stolen from the house. Nothing else was taken.
"Inquiries are ongoing."
Swimmer retired
The car belongs to Adlington's partner, swimmer Harry Needs.
In addition to her Olympic haul, Adlington also claimed two world championship golds, two Commonwealth titles, a European gold and 13 victories in the British championships.
In total, she amassed 35 medals from national and international championships.
The 24-year-old announced her retirement six months after the London Olympics.