Pop-up shops spreading across UK
By Sandish Shoker
BBC News, Nottingham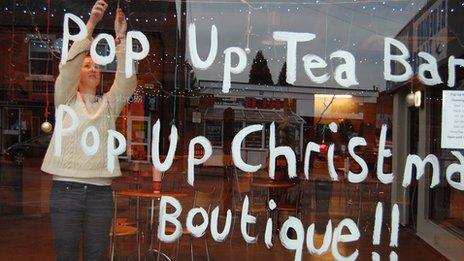 A short walk through a bustling city centre such as Nottingham and the high number of empty retail units soon becomes clear.
Balance that with an ever-growing trend of "pop-up shops" over the Christmas period and it seems the high street could be seeing one of its biggest changes for years.
This summer, rules for temporary retailers were relaxed by Parliament to get more disused shops into occupation.
And thanks to retail experts such as Mary Portas and the StartUp Britain campaign, temporary shops are now everywhere.
The British Retail Consortium said short-term use had become a better alternative than letting shops stand empty.
It has called the concept an "innovative way in which businesses are adapting to changing trading conditions".
But it seems pop-ups are not just for the independent retailers. Even better known brands are now testing the market before committing themselves to a high street store.
Two very different businesses have shared their thoughts on how the pop-up concept has worked for them.
Krisi Smith, 25, from Nottingham, runs the Bluebird Tea Co, selling her own blends of fruit, nut and chocolate loose teas.
She started the business with her boyfriend after returning from six months in Canada, and in July they got a place in Mary Portas's StartUp Britain campaign, opening their first pop-up shop in Richmond, London, for two weeks.
Since then they have opened five more across the UK, ranging from two days to a month and say the next year will see them setting up many more.
"Mary Portas really liked what we did because we were different and the scheme really opened a lot of doors for us. We have met other entrepreneurs and travelled the country visiting festivals and markets and we still haven't found another company like us in the UK.
"It was nerve-racking to be involved in Mary's pop-up. It was a scary thought and we didn't know what to expect but we took it step by step and opportunities have just fallen into our path.
"I would like to become a permanent shop, but the way the economy is at the moment I don't think the high street is necessarily the kind of place people frequent anymore, so committing to a long-term unit is risky. That's why the pop-up concept really works for us.
"Pop-ups have been around for years but they are only really starting to take off because people are beginning to see that they can work."
Nigel Grant is brand director for Pretty Green, a men's fashion collection created by Oasis front man Liam Gallagher.
Their first store opened as a pop-up in Carnaby Street, London, in 2010 and there are now 11 others across the UK, many of which opened as pop-up shops for up to six months before becoming permanent stores.
Mr Grant said they did this to test the market before committing themselves to a site.
"We look to find the right site and then create the shortest deal that we can, which gives us the chance to ascertain whether it is going to be successful or not.
"If not, it means we haven't committed to anything long term and have the ability to walk away.
"It is an obviously sensible approach to business for us. It doesn't matter who is behind your product or what level of publicity you have had beforehand, but in retail you have to tread carefully.
"The industry is evolving all the time and initially opening as a pop-up works for us. It might not work forever but it is a model we have chosen and allows us to dip our toes into the water and test it before we take any risks.
"We started our brand in the worst economic climate ever so we don't know what would have happened had we started our brand in an economic boom or whether it would have been different, but the pop-up model is working and I'm sure it is something we will keep doing for as long as we can."
Related Internet Links
The BBC is not responsible for the content of external sites.