Avon and Somerset Police told of privatisation concerns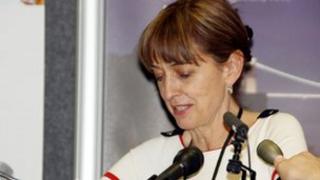 Concerns over privatising parts of Avon and Somerset Police have been raised with the police and crime commissioner (PCC).
Since Sue Mountstevens took office, more than 1,000 people have contacted her via social media and email.
About 680 comments have been from people campaigning against privatisation.
Independent Ms Mountstevens was voted in after a 19% turnout across the Avon and Somerset force area.
Ms Mountstevens said: "There's a real hunger out there from people who just want to get involved."
Chief stood down
Referring to the comments relating to privatisation, Ms Mountstevens said she would "oppose any further cuts to police funding and any further privatisation affecting core police functions".
Less than 2.5% of the comments were complaints, the PCC's office has said.
Other comments included suggestions such as police officers having training to better understand autism or how the police budget could be spent.
Ms Mountstevens has also received about 50 invitations from community groups and charities to visit them and learn about the work they do.
During its final year, the outgoing police authority had recorded 271 contacts with the public.
Ms Mountstevens is currently drawing up a policing plan in time for next March.
She is also set to appoint a new chief constable in January.
Colin Port, the current chief constable, stepped down after refusing to re-apply for his own job.