Devon and Cornwall police jobs 'may be saved by resource-sharing'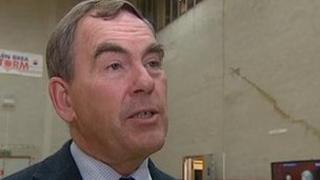 Police officers' jobs in Devon and Cornwall could be protected if some services and resources are shared between forces in the south-west, the region's police commissioner says.
The county force is due to cut 700 officers by 2015 as part of plans to save £51m.
Commissioner Tony Hogg said he believed collaboration was needed in sharing procurement and operations support.
He says he has "no intention of privatising policing".
Officer numbers in the force are expected to drop from 3,500 in March 2010 to about 2,800 by March 2015 because of the savings plans.
'Common sense'
Mr Hogg said: "It's most important that I do everything, by way of working with the chief constable, increasing efficiencies, to somehow stem the outflow of officers that are programmed to be lost by 2015."
He said collaboration with other South West forces was logical.
"It's common sense that, if we can work together, we can be more efficient," he continued.
"It could be from simple things, like purchasing - spare parts, radios, cars - right the way through the scale to more sensitive operations, where perhaps one force would lead and others would provide services and support."
He added that he was aware that people were concerned about any moves to privatise the police, which he has no plans to do.
"But what we will do is, if we find areas where we don't need police to manage certain services, then we would not be doing our duty if I didn't seek to see if there was a more appropriate way of doing that," he said.
Mr Hogg, who has been in post for a month, is currently in the process of appointing a permanent chief constable, setting a Police and Crime Plan, and dealing with the force's budget.
Mr Hogg has yet to appoint a deputy, but has recruited one adviser so far, Jan Stanhope, a former independent member of the disbanded police authority.
She will be on an annual salary of about £20,000 for working two days a week.