Chelmsford Diocese urges Twitter posts during services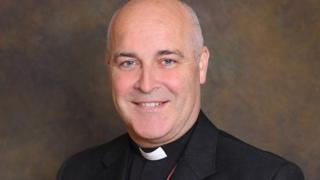 An Anglican diocese has called on worshippers to tweet during church services.
The Bishop of Chelmsford, the Right Reverend Stephen Cottrell said he would be tweeting his Christmas sermons.
His press officer, Ralph Meloy, said social media was playing a growing role in church communication.
But the idea of tweeting in church has led to some voicing concerns about how and when people tweet, and the impact on others in the congregation.
Asked about the church's own use of social media, Mr Meloy said: "We tell people about clergy comings and goings.
'All sorts of tweets'
"Its something that we think is really good for news, for network building and also for people to interact with us.
"We've been putting out all sorts of tweets."
One of the challenges issued by the church using Twitter - in which people post tweets of no more than 140 characters - was to summarise the nativity story.
Among those who took up the challenge was Bishop Cottrell.
"Twitter does work on the principle that less is more. It is really popular," said Mr Meloy.
"We are encouraging people to tweet the Good News live from church. Its a good idea to let the vicar know first that you're doing it.
"We are actually encouraging people to take their smartphones into church on Christmas Eve and Christmas Day.
"We would like to think we can use social media as one of many channels to communicate things."
'Quite intimidating'
The Reverend Canon Sally Fogden, of the Diocese of St Edmundsbury and Ipswich, urged an element of caution in the use of social media during services.
"Some older members would find it very difficult to live with and it would be very disconcerting for some to see people sat there 'twittering'. It could also be quite intimidating for the poor vicars," she said.
"You would have to choose the times carefully and not have people on Twitter during particularly sacred times such as the Communion.
"If it is going to happen, it has got to be done in a suitable way. But I'm sure it is going to happen because people do it all the time."
Last year, the Pope sent his first tweet from a Vatican account to launch the Holy See's news information portal.
And last week the head of the Catholic Church posted his first tweet from his own account.