Berkshire postal depot seizes fake football shirts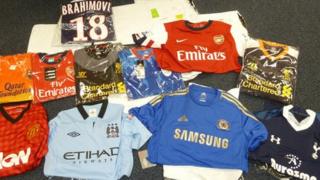 Thousands of counterfeit football shirts have been seized by officers at a postal depot near Heathrow Airport.
The shirts, purchased online and destined for UK addresses, were found at Royal Mail's international postal hub in Langley, Berkshire.
The majority were made in the Far East and shipped via Germany or Sweden.
Border Force, which seized the goods, said replica football shirts had a normal retail price between £40 and £50.
'Out of pocket'
Border Force officers detected almost 4,000 counterfeit shirts at the Langley depot during October and November.
Some of those seized appeared to be Christmas presents with personalised names printed on the back.
Several hundred more suspected counterfeits have since been detained with their status yet to be confirmed. All those confirmed as counterfeit will be destroyed.
Tony Smith, from the Border Force, said: "Our message is that if something appears too good to be true, it probably is.
"At this time of year, it can be really easy to think you are getting a bargain.
"You could end up out of pocket, but even worse, you could end up with a fake product that is inferior and could be harmful or unsafe."